Fifth in a Series … Click Below to Review the First Four
First in Series | Second in Series | Third in Series | Fourth in Series
Business owners …
Welcome to the fifth installment on how to position your business to sell at peak value.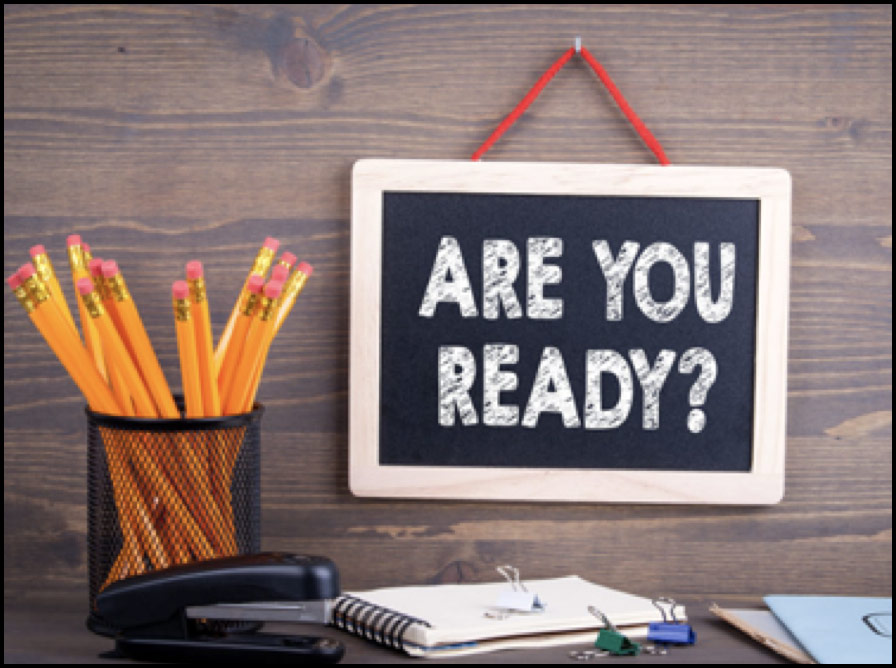 If you are a small business owner with $750,000 – $35,000,000 in annual revenue and ready to sell be sure to read the prior installments to study what you need to know about the 4-Ps of getting ready – Planning, Preparation, Promotion and Post-sale guidance.
In our fourth installment on the topic of Preparation, we presented three issues for you to address once you seriously set a date to sell … all based on viewing your business through the eyes of potential buyers. Said another way, how to appeal to buyers' optics.
Curb appeal … facilities; staff; etc.
Pricing … realistic based on third-party evaluation
Seeking guidance
In this issue we'll expand on how to appeal to buyers needs and expectations with emphasis on the Six Major Drivers of Business Value. As a place to start, see the following checklist/summary to anticipate the concerns that potential buyers will have … whether openly expressed to you or not. Depending on the level of sophistication of the potential buyer and/or the expert guidance employed by a trusted advisor, it is likely that some or all the following items will be on their minds.
Following this snapshot, we'll deliver a comprehensive view and roadmap of the six major drivers of business value.
Your Guiding Principle … Appeal to Buyers Needs and Expectations.
Here's What They Want to See and Know!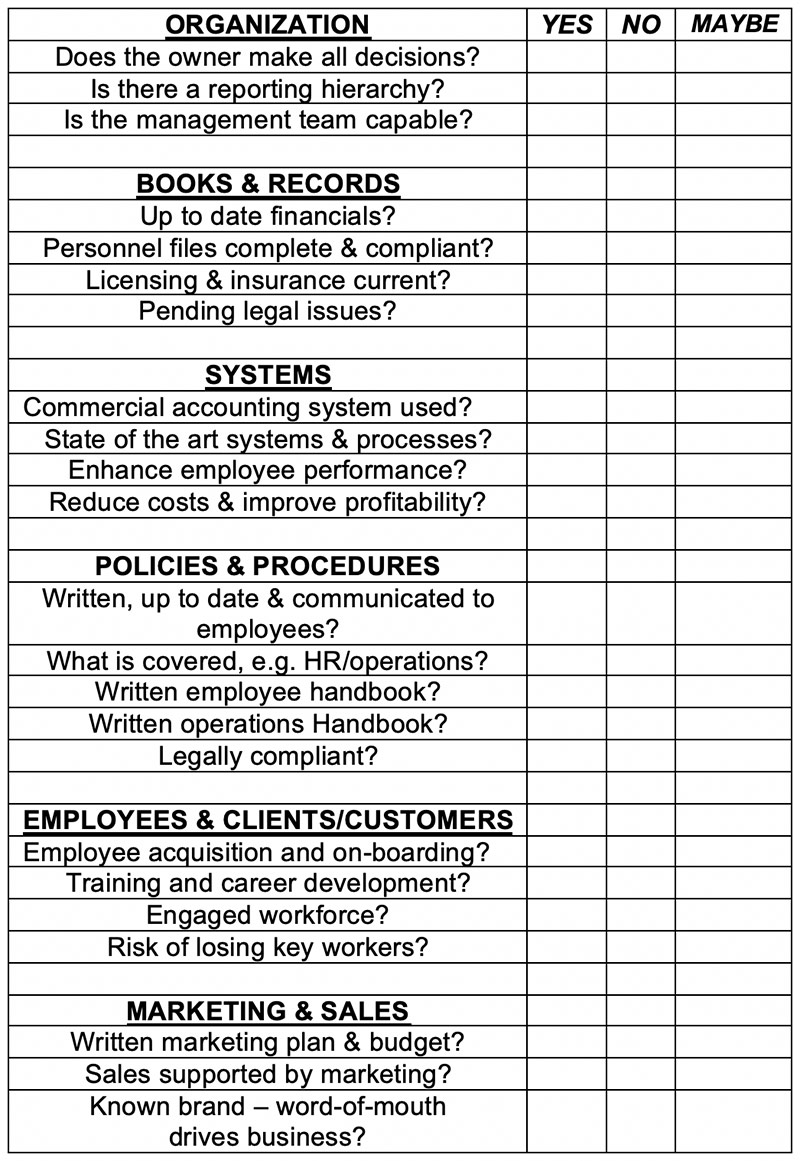 In large part, your success in achieving a peak-value sale will be measured by how well you understand the above checklist that outlines the mind-set of potential buyers of your business. In short, anticipate questions and objections and be prepared to present strong, compelling, irrefutable responses.
And as in any selling scenario, you may enhance your likelihood of a peak-value sale by raising questions before they are asked. That act will further cement your image as a business owner with nothing to hide and a willingness to demonstrate transparency.
Take Control of Your Preparation!
Build on the knowledge offered by the above broad-brush issues a buyer is likely to surface … and build your sales plan to anticipate even more depth of likely questions. As in sports, a strong offense is your best defense … like a good Scout, Be Prepared!
In our years of providing advisory services to both sellers and buyers of businesses, Rich-Biz Brokers has developed a success checklist … the Six Major Drivers of Business Value. When all are in place and "flying in formation" a peak-value sale is the dominant result.
So, your capability to demonstrate that all six drivers are in-place and fully operational will position your selling proposition head and shoulders over other possible acquisition candidates being considered by a buyer.
The Six Drivers of Business Value
Here are the six drivers followed by a more in-depth discussion of each.
Company Organization
Books and Records
Systems
Policies and Procedures
Personnel and Clientele
Marketing and Sales
Your attention to each of these drivers will demonstrate to buyers that your business operates with smoothness, accuracy, clarity, efficiency, quality and positive results.
Company Organization: If you are the company, its value is greatly diminished! Said another way, the more valuable you are to your company, the less valuable your company is to you. A buyer wants to know that in your absence the business is a "going jenny" and not one dependent on you at the helm.A telling question for you to ask yourself, "Would my business survive for 90 days without me?" If not, develop and execute a plan to ensure your business will successfully prevail without you in control.Additionally, be prepared to demonstrate the leadership structure of the company, the culture and personality of your staff as well as open lines of communication among workers and management. As a rule of thumb, no more than 10% of your business revenue should be dependent on any one person. Likewise, success in operations should not be based on one individual's talents.
Books and Records: It's critical that you can show that your financial records are complete, accurate and up-to-date. That said, you must be prepared to produce personnel records that are fully documented and compliant with federal, state and local employment requirements. Additionally, if your company is subject to licensing, continuing education or other legal issues to remain compliant with industry, professional and legal constraints have them available for review.Are your financial records complete, accurate and up-to-date? Are personnel records fully documented and compliant with federal, state and local employment requirements? Are licensing, continuing education or other legal issues compliant with industry, professional and legal constraints?Note: The lack of strong financial management and accurate documentation will usually cost you much more in the selling price than the cost of creating them and keeping them current. Buyers want to see the promise (strong likelihood) of sustainable earnings and growth following the purchase.
Systems- Repeatable, Efficient Processes: The presence of up-to-date, compliant policies and procedures offers confidence to a buyer that appropriate personnel, supervisory and safety issues are proactively addressed.… Do Yours:–  Improve top-line performance?
–  Meet customer expectations?
–  Develop consistent results?
–  Engage employees with guidance, direction and expected results?
–  Reduce costs and improve profits?
Policies and Procedures … Written, Up-to-Date and Available to Staff:–  Human Resources?
–  Operations?
–  Marketing?
–  Sales?
–  Communications?
Personnel and Clientele … Written Documentation: Buyers will be concerned about "flight risks" of key employees. A solid record of how employees are on-boarded, groomed for advancement and managed to motivate employee engagement will offer comfort to a buyer that there is likely to be continuity in staffing.-  Staffing procedures – acquisition through termination?
–  Personnel development, training, career path development?
–  Management nurturing, motivating and enhancing employee engagement?
–  Supervision and evaluation by management to recognize strengths and improve performance?
Marketing and Sales … Marketing Supports Sales Goals: Marketing support is essential to drive superior sales performance. A red flag is raised if sales people are expected to perform as marketers as well as sales/relationship managers.-  Stated marketing strategy?
–  Written marketing plans for current and ensuing 2 years?
–  Specific target outcomes for marketing campaigns?
–  Evaluation of marketing efforts vs. sales results?
Create a Vision of the Future
OK. Let's say you have all the above in place and functional, or at least in process. So, you've created an attractive acquisition target, but there's more for you to add to your story.
Appeal to the buyer's self-satisfaction knowing that the company value could be much improved under his/her leadership. It will be in the buyer's mind so build on it. Initiate conversations to prompt discussion of how the business could be enhanced perhaps with just some minor "tweaking". It may create a vision of future success that propels the sale across the goal-line … perhaps at a premium over your asking price!
You Are Not Alone!
We've covered a lot of ground and you may be left with the feeling that all of this is somewhat overwhelming. Not to worry … that's a typical reaction which mellows out when you know that there is help available.
That's where we come in … to help you decide on the best exit-strategy via sale or succession planning. You and your business are unique. There are no one-size-fits-all solutions. Together, we will work with you and deliver action-oriented business advice to maximize your company's value and promote its sale through our local and national network of qualified buyers.
We will help! Just give us a call or drop an email. We'll respond promptly!
Click Here: Access more insight to prepare your business for sale and enjoy peak sale value.
Note: Be sure to check out our next issue for the first of two installments on Promotion to sell your business.